Kitchen Mats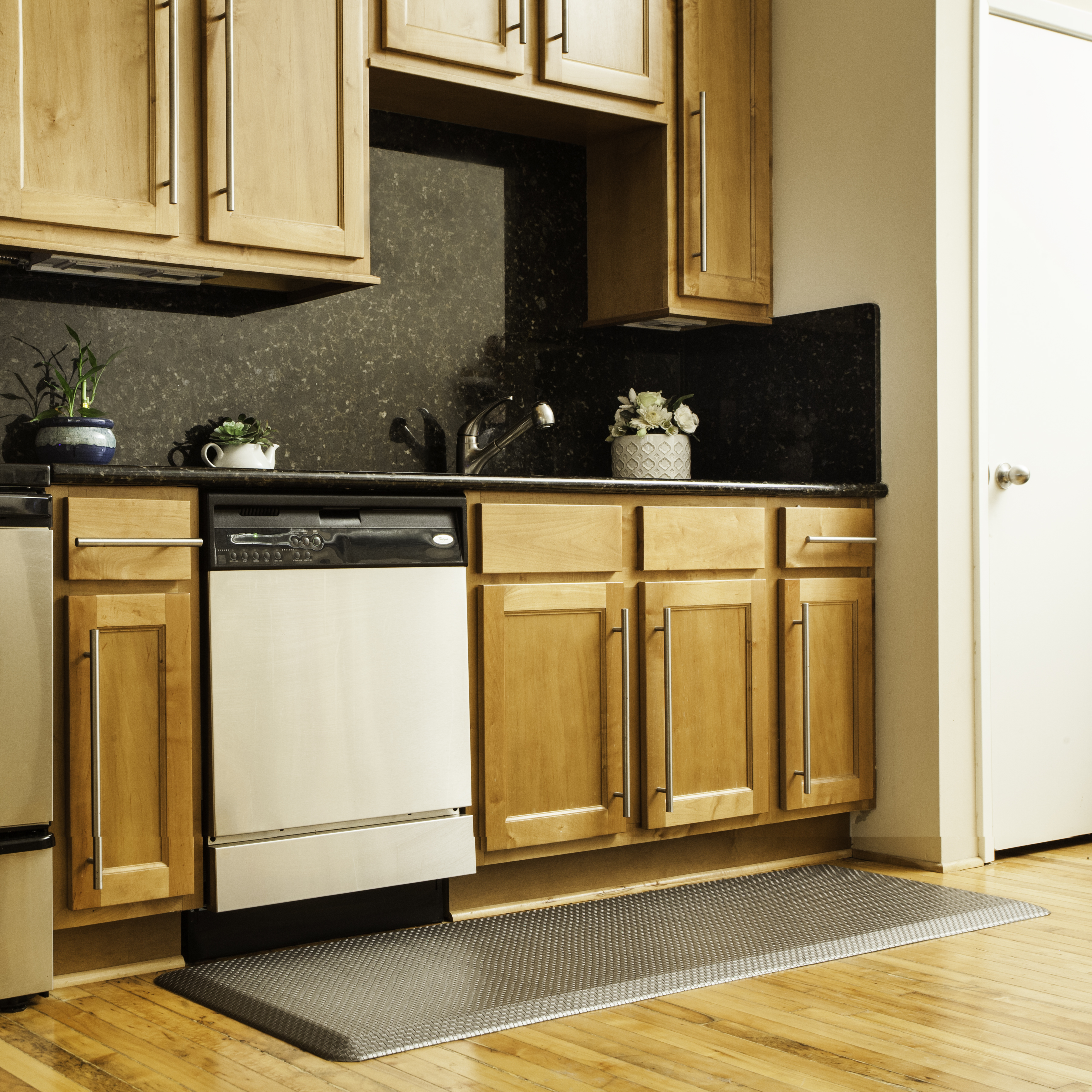 Comfort Craft ergonomic anti-fatigue kitchen mats make working in the kitchen a more comfortable, stress-free experience. Plus, they come in enough colors and styles to fit in with most any kitchen décor. Want to brighten up a boring kitchen? Use these ergonomic mats to add a splash of color.
Cushioned Anti-Fatigue Mats for Kitchen Standing
Discover our perfectly cushioned anti-fatigue mats for the kitchen. These comfortable, cushioned anti-fatigue mats are stylish, rugged and come in a variety of colors, styles and textures. Every one of these cushioned anti-fatigue mats for the kitchen uses this revolutionary polyurethane engineering for maximum comfort and relief. This ingenious design stimulates circulation in feet, legs and lower back to reduce standing fatigue and provide comfort in front of the sink, chopping board or stove. Our anti-fatigue kitchen mats come in a variety of sizes: 2×3, 2×4, 2×6 and 3×5.

Our Catmandoo Accent mats come in three rich colors featuring a stitched leather look. The handsome leather stitching's earth tones and rich dimensional textures provide a very elegant look.
Mocha CCP-CAT-Mocha; Ochre CCP-CAT-Ochre; Saddle CCP-CAT-Saddle. Available in 2'×3'; 2' × 4'; 2' × 6' and 3' × 5' sizes.

The elegance and durability of Crocodile has fascinated craftsmen for centuries. We have mastered these ancient hides to display only the most luscious parts.
Auburn CCP-Croc-Auburn; Laurel CCP-Croc-Laurel; Matte Black CCP-Croc-Black; Rattan CCP-Croc-Rattan; Toffee CCP-Croc-Toffee; Topaz CCP-Croc-Topaz. Available in 2'×3'; 2' × 4'; 2' × 6' and 3' × 5' sizes.

The rich woven leather look of our elegant South Park Accent mats come in four beautiful colors. These vivid colors will bring new like to your kitchen with its unique artistic flair.
Black CCP-SP-Black; Buckskin CCP-SP-Buckskin; Ocean CCP-SP-Ocean; Shark CCP-SP-Shark. Available in 2'×3'; 2' × 4'; 2' × 6' and 3' × 5' sizes.

The Triathalon mats are truly Accent mats! With 12 dynamic colors to choose from you can match or offset almost any kitchen or laundry room design.
Cardinal CCP-TRI-Cardinal; Copper CCP-TRI-Copper; Deep Plum CCP-TRI-Plum; Ebony CCP-TRI-Ebony; Lagoon CCP-TRI-Lagoon; Lion CCP-TRI-Lion; Pine CCP-TRI-Pine; Saddle CCP-TRI-Saddle; Taupe CCP-TRI-Taupe; Walnut CCP-TRI-Walnut; Water CCP-TRI-Water; Willow CCP-TRI-Willow. Available in 2'×3'; 2' × 4'; 2' × 6' and 3' × 5' sizes

The look of woven basketry borrowed from India, using rich natural tones. Classic, beautiful and durable, Reed Accent mats will give your kitchen beautiful, yet relaxed look.
Beechwood CCP-Reed-Beech; Berry CCP-Reed-Berry; Cactus CCP-Reed-Cactus; Curry CCP-Reed-Curry. Available in 2'×3'; 2' × 4'; 2' × 6' and 3' × 5' sizes.